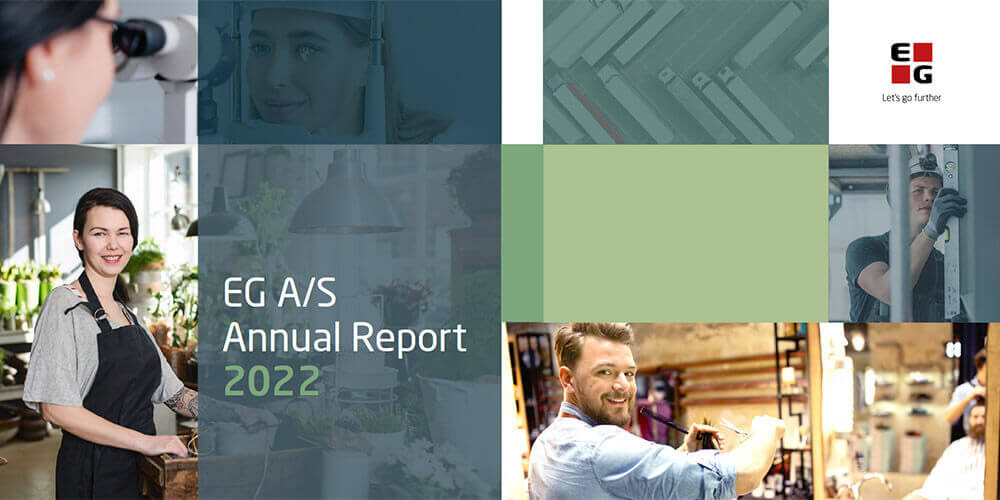 16. maaliskuuta 2023
EG reaches a turnover of two billion DKK in 2022 and further strengthens its Nordic market positions
Copenhagen, 16 March 2023 - EG, a market leading vendor of Nordic vertical software, today published its annual report and separate ESG report for 2022.

In 2022 EG delivered a total revenue growth of 18.1% and a growth in recurring revenues of 23.7%. The adjusted EBITDA margin expanded by 3.1 percentage points to 35.7%.
"2022 was yet another year in which EG experienced strong growth in both revenue and profits despite geopolitical challenges and inflation. Both the business and the strategy have proven to be resilient and value-creating for customers and other stakeholders, even in difficult times. I would like to thank our customers for their continued trust in us", says Klaus Holse, Chairperson of EG.


EG strengthened its market positions
In 2022, EG strengthened its market positions with the acquisition of an additional five companies, and EG now has more than 29,000 customers across the Nordic region, up from 26,000 in 2021.
"I am happy with the progress we have made to strengthen our market positions and our capabilities in 2022. We now have strong positions within eight vertical markets, with Real Estate being added as a new vertical market after our largest acquisition to date of Ørn Software AS in August 2022", says Mikkel Bardram, CEO of EG, continuing:
"I would like to thank EGs employees for all we have achieved during 2022. We have come far and have a good plan to improve even further in 2023."


Positive outlook for 2023
EG has positive financial expectations for 2023 and predicts a year of continued high growth and strengthening of the company's leading Nordic market position. Overall, double-digit revenue growth in line with the 2022 growth level is expected to be driven by continued growth in subscription-based revenue. Further, it is expected that the reported EBITDA margin will be on the same level as realized in 2022.
Download EG Annual Report 2022 (pdf)
Download EG ESG Report 2022 (pdf)

More information
Spokesperson: Mikkel Bardram, CEO, EG
Press contact: Communication Manager Per Roholt, EG, +45 2060 9736.

About EG
EG is a market leading vendor of Nordic Vertical Software for private and public customers. EG's Software-as-a-Service offerings are developed by specialists with deep industry and domain knowledge, supporting business-critical and administrative processes. EG employs 2,000+ people primarily in the Nordics and in 2022, Group revenue was DKK 2,077 billion.